I used to do a meal delivery service at the hospital. I'd bring in lunches for people so they'd have the convenience of not having to spend 5 minutes walking back and forth to the cafeteria and another 15 in line waiting for their food, only to come back and realize they had to stuff the food they'd bought (at an outrageous price) into their face in 10 minutes. Because when you work in an intensive care unit, you're LUCKY if you get a 30-minute break for lunch.
Sorry, I digress…
This meal delivery menu varied from week to week, but I began to realize that I had more and more people requesting the salad every week…
I went to culinary school.
I make gourmet meals.
Stuffed salmon. Duck confit. Poisson en papillote.
But these people wanted the SALAD?!?
I mean, I'm not saying I blame them. On the regular I usually eat 4-5 salads per week. I was just shocked they didn't want something more complicated. That is, until a coworker told me, "Ash, it's healthy, it tastes great, and I can never make my salads like you make yours!".
So, even though some of you may be thinking, this week's recipe is a salad?
Well, yes. Yes, it is.
This is for all of my people who need help coming up with healthy, easy, and delicious ideas for meals.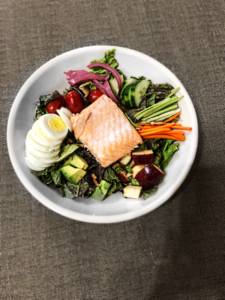 Yields: 2 salads
Prep Time: 10 minutes | Cook Time: 15 minutes | Total Time: 25 minutes
Ingredients:
2 hard-boiled eggs
½ lb salmon, skin on (or sub chicken, shrimp, or any other protein)
6 cups lettuce
¼ apple, chopped
1 slice red onion, diced
1/3 cucumber, sliced
1 celery stalk, julienned
½ avocado, chopped
½ tomato, quartered then chopped
1 tbsp raisins
2 tbsp cheese
4 strawberries, sliced
½ medium carrot, julienned
2 tbsp walnuts, chopped
Preheat oven to 450°.
Place eggs in a small pot and cover with water. Bring to a boil.
Once boiling remove from heat, cover, and let stand X ~15 minutes.
Place salmon, skin side down on aluminum foil lined baking sheet. Bake at 450°X ~8-12 minutes depending on the thickness of the fillet.
Divide remainder of ingredients among two bowls. Top with peeled, sliced eggs and salmon.
The Cook's 2 Cents:
I like to buy salmon with the skin on because not only does it add flavor, it allows for easy removal after baking. Simply slid a spatula between the cooked fish and its skin and it come right off.
If you don't know how, or simply don't feel like taking the time to julienne the carrots, here's a quick alternative. After removing the peel, you can continue to use the carrot peeler to shave the carrot.
Most of us eat with our eyes, so I always try to find simple ways to make dishes look more enticing. Before slicing the cucumber, every ½ inch or so, cut ½ inch of the peel off. It just makes it look a little fancier.
Nutrition Facts:
Servings Per Recipe: 2 salads
Serving Size: 1 salad
Calories: 345               Fat: 14g           Sodium: 444mg          Carbs: 25g       Fiber: 9g          Sugars: 11g     Protein: 37g