Most people in my life know that I'm M.I.A. during the winter months. After Christmas with my family, every month or so I fly out to Tahoe where my extended family lives to get my snowboarding fix. No, I'm not trying to make you jealous. Just trying to explain why I'm writing this week's post. During these traveling times, my fridge pretty much stays bare. I'm an absolute hater of food waste and so wouldn't dare go grocery shopping, lest I have something spoil while I'm on one of my trips. So, I do this thing where a few days before I leave I try to completely empty out my fridge by way of getting creative in the kitchen. It can get pretty difficult at times to come up with something edible (think cream cheese, broccoli stems, and tuna fish. That menu was interesting). I was lucky this past week though, because I found a tomato, red onion, and some mozzarella. There are endless options for these items, but I decided to go with a bruschetta!
In the U.S., we tend to think of "bruschetta," as the tomato topping that adorns a piece of toasted bread. But if you go to Italy and order a bruschetta you'll actually get the toast itself. It can be topped with any number of items, but the most commonly seen is a tomato, basil mixture. In Italy, they actually use stale bread to make it, because it's supposed to have a bit of a crunch (A country after my own heart. I guess the Italians aren't fond of food waste either!). One of the best things about bruschetta though, is that the flavors that come out of this appetizer take no time at all to create!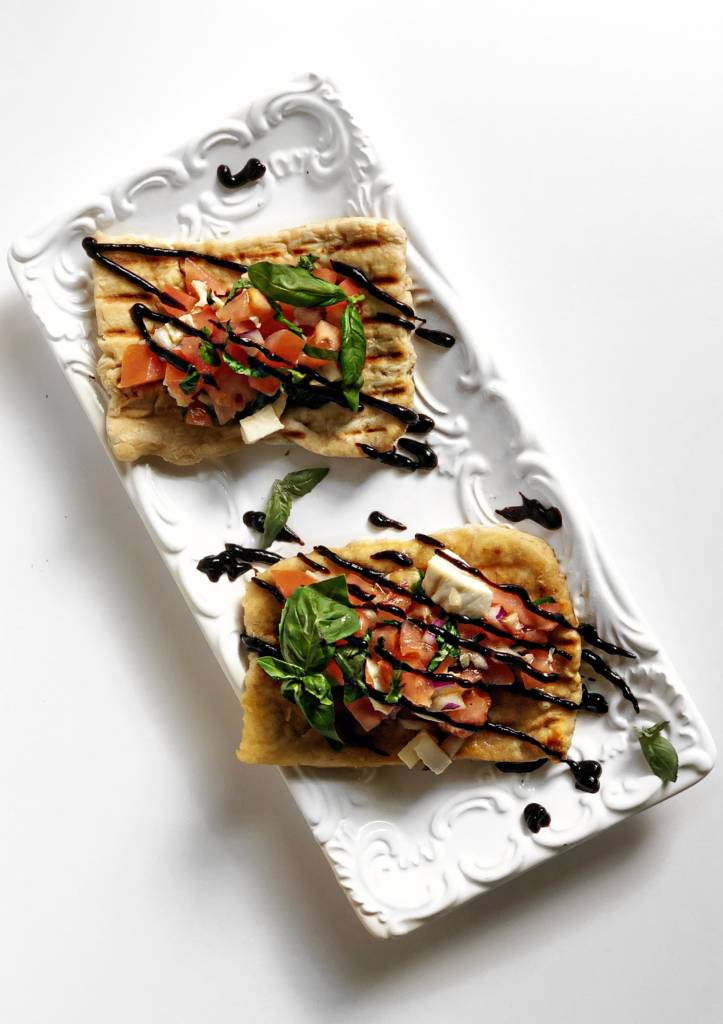 Prep Time: 5 minutes | Marinating Time: 30 minutes | Total Time: 35 minutes
Yields: 2 cups
Ingredients: 
1 tbsp olive oil
2 garlic cloves, minced
1 tomato, diced
3 tbsp diced red onion
10 basil leaves, chopped
1 oz mozzarella, diced
1 tbsp balsamic glaze
Heat olive oil and garlic over low/medium heat until fragrant. Remove from heat and allow to cool.
Add remainder of ingredients and toss to coat.
Allow to marinate for ~30 minutes.
The Cook's 2 Cents:
This tomato mixture can go on any type of bread. Traditionally it's on top of a toasted (or stale) baguette. I've opted for piadina because I had some of that leftover in my pantry!
Nutrition Facts:
Serving Size: 2 tbsp
Servings Per Recipe: 16
Calories:  17        Fat: 1g     Sodium: 7mg          Fiber: 0g   Carbs: 1g  Sugars: 1g           Protein: 0g