I've never really been an enchilada fan. Don't get me wrong—I LOOOOVE Mexican food as much as the next person. But something about enchiladas always seemed kind of plain to me.
A few weeks back a friend and I were discussing my thoughts on the matter and she, being from SoCal, naturally was appalled. She started talking about how she used to drive into Mexico for the afternoon on a regular basis with the sole purpose of getting authentic enchiladas.
As I thought on this for a beat, I began to wonder if I had been misinformed the last 33 years of my life. I'd decided I'd give them another try. However, I was hyper aware that I was going to have to give them an, "A Cook's Beet," spin so they'd be a tad more interesting to me.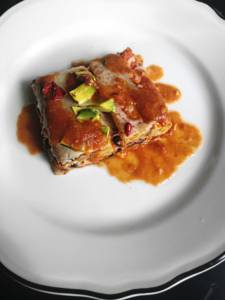 In today's enchilada recipe, I use plantains instead of tortillas. Are you getting tired of the healthy spins yet? I hope not! They actually ended up being a pretty tasty substitute for the fried, carby alternative. Of course, being a bit full of myself on this new discovery, I thought, "Why stop there? Let's sub the cheese too!" I set out to make cashew "cheese."
As Julia Roberts would say: Mistake. Big Mistake.
Full disclosure: cashew"cheese" comes nowhere close to actual cheese. Big surprise. I'd recommend splurging on the real deal for this recipe. Which is what I did on the second go 'round.
In short, plantains—yaaaas! Cashew cheese, a hard no.
In the end, though, I definitely think what made these enchiladas so tasty was the enchilada sauce, which I now always have on hand in my freezer!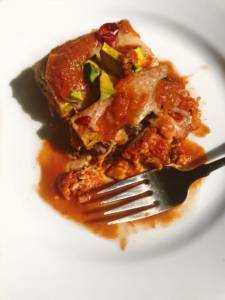 Yields:  5 servings
Prep Time: 5 minutes | Cook Time: 45 minutes | Total Time: 50 minutes
Ingredients:
For the enchiladas:
2 plantains, peeled and sliced lengthwise
1 tbsp olive oil
½ onion, diced
½ red pepper, diced
1 tsp taco seasoning
1, 15 oz can black beans
1 cup enchilada sauce (see recipe below)
2 cups cheese (cheddar or Monterey jack works well)
½ avocado, cubed and reserved to top
For the enchilada sauce:
1 tbsp olive oil
2 cloves garlic, minced
½ onion, diced
3 thai chiles, diced
5 sun dried tomatoes, diced
1 tsp cumin
1 tsp paprika
½ cup tomato paste
1 ½ cup vegetable stock
Preheat oven to 425°.
Spray baking sheet with nonstick spray and bake plantain slices at 425°X 15 minutes. Flip and bake an additional 10 minutes.
Meanwhile, heat 1 tbsp olive oil in a pan and sauté ½ onion and pepper over medium heat until tender ~3-4 minutes.
Add black beans and taco seasoning. Stir to combine and remove from heat. Set aside.
For sauce:
Heat 1 tbsp olive oil in a separate pan with garlic. Add ½ onion and cook until tender ~2-3 minutes.
Add chiles and tomatoes and cook ~2 minutes.
Add tomato paste, cumin, paprika, and vegetable stock, making sure to scrape the bottom of the pan to get the flavorful brown bits from the bottom. Bring to a boil.
Transfer enchilada sauce to a blender (or use an immersion blender) and blend until smooth.
When plantains are finished baking, reduce oven temperature to 400°. In a casserole dish, layer sauce, plantains, bean/onion/pepper mixture, and cheese. Repeat with remaining ingredients layering each on top of the other finishing with a layer of sauce and cheese.
Bake at 400°X 20 minutes. Remove when cheese is bubbly and starts to brown.
Top with any remaining cheese and avocado.
The Cook's 2 Cents:
Depending on the size of the plantains, the amount yielded will vary. I got ~10 slices total which gave me roughly 3 layers.
The enchilada sauce yields about 2 cups, but this recipe only calls for one. So, you can either cut the recipe in half, or do what I did and freeze it for the next time you want enchiladas!
I used sundried tomatoes because this is just what I had in my fridge. You could definitely substitute regular tomatoes if you've got these instead.
When dicing the chiles—WEAR GLOVES! If you don't have any, that's okay, but just be sure to remember to wash your hands well IMMEDIATELY after handling the chiles. Otherwise, if you don't you'll inadvertently end up touching your nose or rub your eyes at some point, and believe me, I know from experience. It does not feel good.
I always have homemade taco seasoning on hand so, you can use my recipe by clicking the link. It's generally a mixture of spices most people have on hand in their cabinet. If not, packaged works just the same.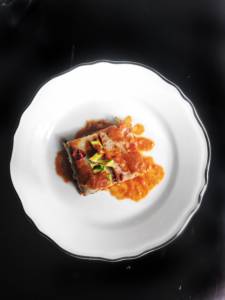 Nutrition Facts:
Servings Per Recipe: 5
Calories: 371               Fat: 10g                       Sodium: 572mg          Carbs: 50g       Fiber: 10g                    Sugars: 18g                 Protein: 23g