I was shopping on Amazon the other day and big brother had some recommendations for me based on my purchase history. I'm sure you won't be surprised that the majority of my online shopping has to do with cooking. So, Amazon often offers up suggestions like deviled egg carriers, knives, Tupperware, etc. This time it just happened to be mason jars.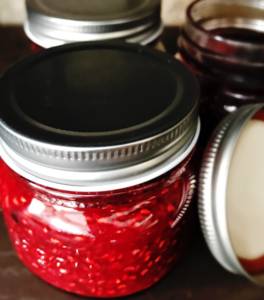 Which sparked an idea…
Preserves!
My mason jars showed up in the mail, so naturally I showed up in the grocery store to pick up a few pints of fresh berries. I tried a few different batches.
Raspberries.
Strawberries.
Blackberries.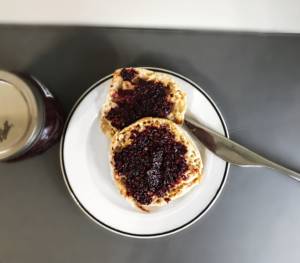 But they all turned out a little bland. Luckily a friend of mine had recently given me a bag of Thai chili peppers from her garden. (Since I think black pepper is spicy I had been perplexed as to how to use these teeny little suckers that were packed with heat.) And as it turns out, the sweetness of the berries paired perfectly with the spiciness of the peppers.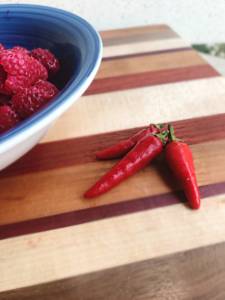 One of the best parts about making preserves is how easy it is! Essentially all you have to do is throw some berries and a bit of sugar into a pot and let it cook down. It's that simple.
Yields: 1 cup
Total Time: 30 minutes
Ingredients:
2 pints raspberries
1/3 cup sugar
1 tsp lemon juice
3 thai chili peppers, minced
Combine all ingredients in small pot and heat over low/medium heat.
Bring to a simmer and cook ~20-30 minutes until it's macerated.
Spoon into jars and allow to cool. Refrigerate.
The Cook's 2 Cents:
If you want to make a larger quantity you can consider canning the preserves at home so the preserves last for longer. The process is actually pretty easy.
Fill a large pot with water and bring to a boil. Ladle hot preserves into the jars, leaving ¼ inch space between the preserves and the lid. Screw on the lid and continue to boil X ~10 minutes. Allow to cool and the vacuum seal will form.
Nutrition Facts:
Serving Size:  2 tbsp
Servings Per Recipe: 16
Calories: 31     Fat: 0g             Sodium: 0mg              Carbs: 8g                     Fiber: 2g          Sugars: 5g       Protein: 0g