With the holidays coming up, I know everyone is scrambling to think of creative ideas for what to bring to your next holiday party. I found myself in a similar situation recently.
Working at the hospital, you become destined to work the majority of the holidays. Mine this year was supposed to be Thanksgiving. I honestly didn't mind because my all-time favorite day to be with my family (in Florida) is Christmas. Then last minute, I was rescheduled to work the weekend of Thanksgiving instead of the actual day. I thought, "Awesome!" and immediately went on Expedia to book a flight home for turkey day. My excitement was quickly deflated when I saw it would cost me close to $1,000 for a 3-day trip.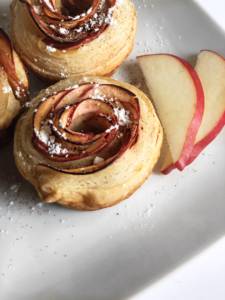 Luckily, one of my friends took pity on me and asked me to join her and her family. "It'll be low key. We usually just order Chinese take-out."
I was speechless.
Chinese take-out?!?!
No, no, no, no. That simply wouldn't cut it. I told her, "Don't worry I've got this covered. We are going to have a real Thanksgiving. I'm cooking."
As a slow, sneaky smile spread over her face, I couldn't help but think I'd just been played. But since I jump at ANY opportunity to cook for people, I let it slide.
Now onto the menu. I'd decided on hors d' oeuvres for a cute little twist on our "Friends"giving and had everything but the dessert planned. My go to dessert for the holidays is usually my apple pie, but I wanted something a little more bite sized to go with the theme of finger foods. I remembered seeing these cute little baked apples that looked like roses on Pinterest earlier this year and decided to take a stab at making them. So, this week's recipe is baked rose apples.
Prep Time: 20 minutes | Bake Time: 40 minutes | Total Time: 1 hr
Yields: ~14 roses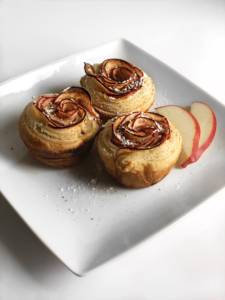 Ingredients:
2 apples
2 tbsp lemon juice
1 sheet of puff pastry
3 tbsp apricot preserves
1 tsp cinnamon
1 tbsp powdered sugar, for garnish
Preheat oven to 375°.
Cut apples in half, core, and cut into paper thin slices.
Toss apples in a bowl with lemon juice. Cover with water and microwave X 2 minutes.
Roll out puff pastry and cut into strips ~1 in X 9 in.
Mix apricot preserves and cinnamon together.
Brush puff pastry with apricot preserves.
Place apple slices overlapping one another on top half of pastry strip. Make sure to leave half of the apple (the side with the peel) sticking out of the pastry. Leave a small space at the end of the strip.
Roll the pastry up and pinch at the end so the pastry sticks to itself. Repeat with remaining apples and puff pastry.
Place each rose in a muffin tin.
Bake at 375°X 30 minutes. Remove and cover with aluminum foil. Bake an additional 10 minutes. Be sure the pastry is cooked all the way through before removing. The middle will take a little longer to cook than the outside.
Sprinkle with powdered sugar.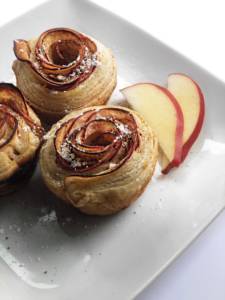 The Cook's 2 Cents:
The lemon juice step is so the apples don't turn brown.
I used a mandolin to cut the apples thin enough to roll.
Microwaving the apples makes the apples more pliable so they're easier to roll.
Nutrition Facts:
Serving Size: 1 rose
Servings Per Recipe: 14
Calories: 122               Fat: 6g             Sodium: 93mg            Carbs: 15g                   Fiber: 1g          Sugar: 5g                     Protein: 2g