Summer is looming.
And my bathing suit body needs some work. In addition to me re-downloading my weight watchers app, I started getting into overnight oats. Oats are so healthy for you with a ton of nutrients. They're high in fiber and pretty low calorie too! And—bonus: they keep you full so you're not snacking before lunchtime. 
Only thing is, most people like to roll out of bed five minutes before they need to leave in the morning (not that I'm speaking from experience or anything). Sot there's not a lot of time to cook a healthy breakfast. This is where overnight oats come to the rescue! There's no cooking involved—you just grab and go! The liquid ends up softening the oats the longer they sit in it. So, all you have to do is pour the liquid over the oats the night before, and you've got a healthy breakfast when you sleepwalk out the door.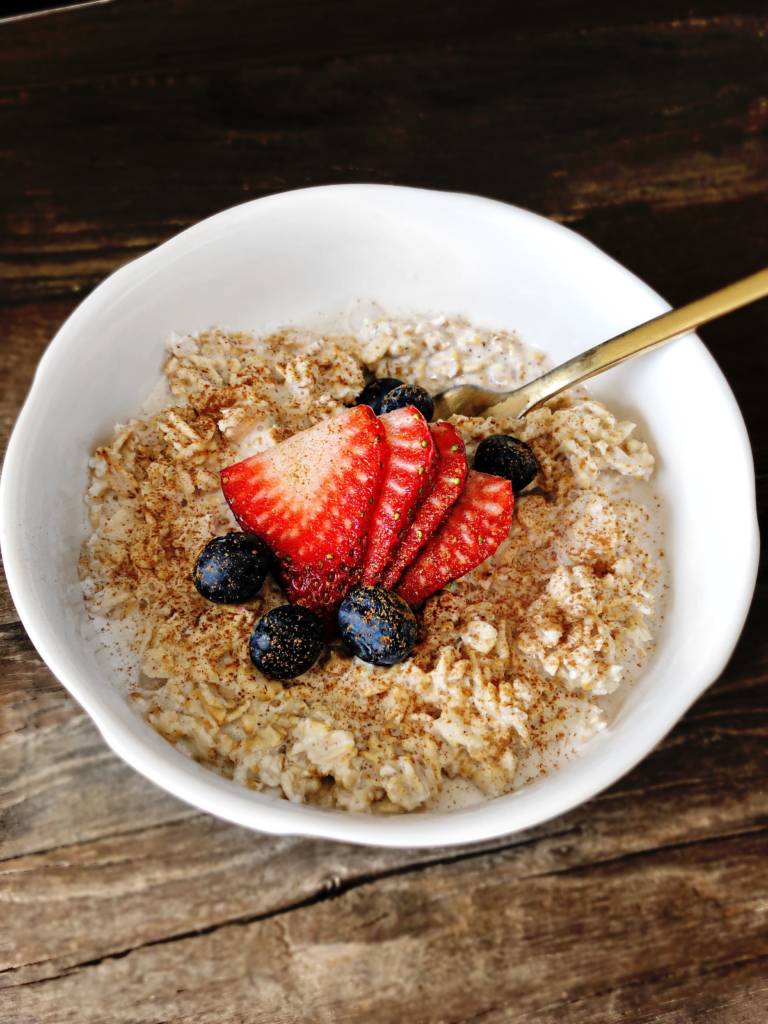 Yields: 2 cups
Total Time: 5 minutes
Ingredients:
1 ¼ cup oats
¾ cup coconut milk
½ tbsp. cinnamon
½ cup slice strawberries, or other fruit of your choice
Pour oats into mason jar (or any to-go container).
Cover with coconut milk and add cinnamon, stirring to mix.
Top with fruit.
Cover and regrigerate overnight. (The oats will take about 6 hrs to soften.)
The Cook's 2 Cents:
You can use any liquid with this. I love coconut milk thought! It gives it a really nice flavor.
If you're making a larger/smaller batch remember the amount of liquid needed is just enough to cover the oats.
Nutrition Facts:
Serving Size: 1 cup
Servings Per Recipe: 2
Calories: 502 Fat: 18g Sodium: 9mg Carbs: 71g Fiber: 14g Sugar: 2g Protein: 18g