One of the best things about living in NYC is the number of things there are to do here.
The shopping.
The sights.
The street fairs.
The food markets.
Even walking down the streets with no goal in mind is fun because you'll inevitably end up in the middle of a parade, a street performance, etc. Recently I found myself overloaded with work the past month and ended up feeling out of touch with my city. I was paying this massive rent but not enjoying any of the perks. So, with 1 ½ days in a row off (I say 1 ½ because when you work a 24 hr shift at the hospital, regardless of if you come home and nap for a few hours, the rest of the day still remains a little fuzzy!), I decided to walk around the city.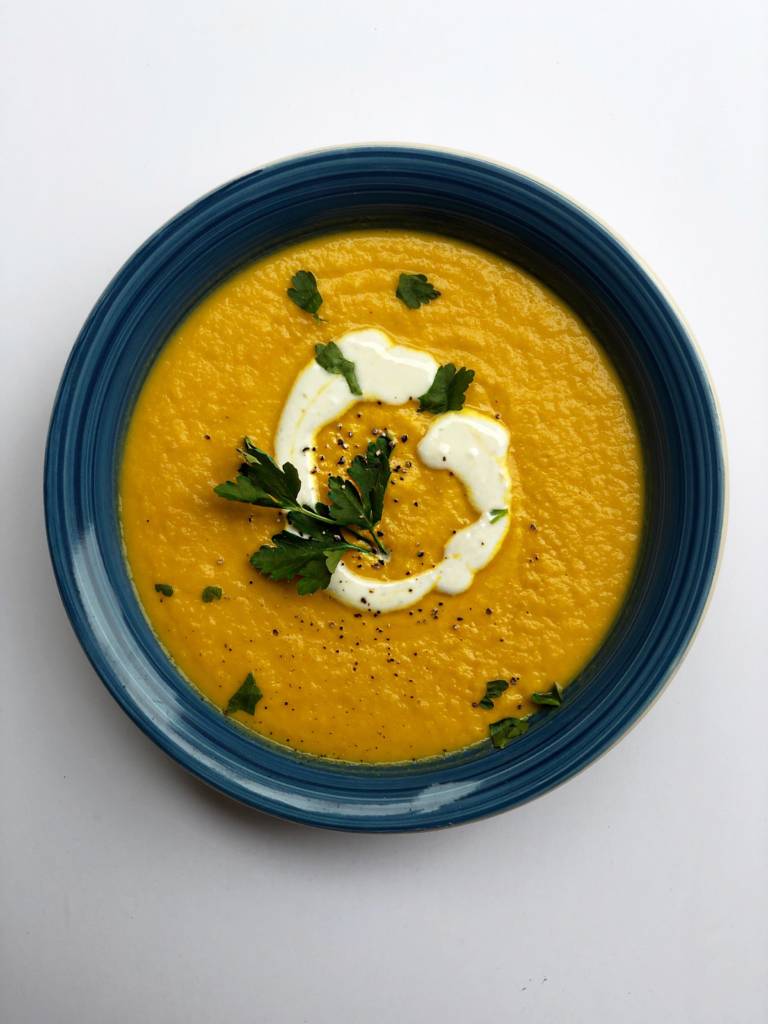 I went to the union square farmers market because I was feeling nostalgic. (This used to be my typical Saturday—shopping for fresh vegetables and herbs.)
I came across these monstrous carrots. I had to buy them because I had never seen anything like them before. I had absolutely no dish in mind when buying them, which is totally unlike me, but they were beautiful so I had to get them.
I got home with approximately 6 lbs of carrots (okay so I get a little carried away sometimes) and realized I had to do something with them. I'll give you the line I always give my brother in this situation: "If you ever have an excess of something, make soup!"
Yields: 8 cups
Total Time: 30 minutes
Ingredients:

1 ½ lb carrots, sliced
1 tbsp olive oil
1 onion, chopped
2 tbsp red curry paste
~4 in piece of ginger, peeled and grated
1, 14 oz can cannellini beans, drained
3 cup vegetable stock
1, 15 oz can coconut milk
3 tbsp lemon juice
salt to taste
Preheat oven to 450°.
Slice and roast carrots at 450°X ~15 minutes.
Meanwhile heat olive oil over medium heat and cook onions X ~5 minutes or until tender.
Add ginger and cook an additional 1-2 minutes.
Add curry, stock, and milk. With a wooden spoon make sure to scrape any "brown bits" from the bottom of the pan.
Add beans and cooked carrots. Bring to a boil, then reduce to a simmer X ~ 5 minutes.
Transfer to a vitamix or blender. Add lemon juice and blend until smooth. Salt to taste.
The Cook's 2 Cents:
Scraping the brown bits from the bottom of the pan after adding liquid is a crucial step to any recipe. They're not burned bits-trust me—they'll add so much more flavor to the soup!
Anytime you have anything acidic in a recipe, in this case, lemon juice, salt helps to balance out the flavors. I'm usually not a salt pusher, but in this recipe, I recommend adding it at the end.
Nutrition Facts:
Serving Size: 2 cups
Servings Per Recipe: 4
Calories: 380 Fat: 20g Sodium: 475mg Carbs: 45g Fiber: 14g Sugar: 13g Protein: 10g