Pia-what-a?
Essentially, piadina is just a fancy word for flatbread. So, why not just call it flatbread you might ask?
Well, why not call a thin cut a matchstick instead of julienne?
Or dough instead of pate a choux?
Why say crème fraiche when you really mean sour cream?
Because the culinary industry has a very apt way of making simple things more enticing simply by using a fancy word that you've probably never heard of…
Anyway…
Piadina is very similar to a pizza dough… Actually most doughs are pretty similar: flour, water, eggs, etc… Except that this dough doesn't rise (hence: flatbread!). It's a dish that stems from northern Italy and was traditionally cooked on a grill giving it a smoky flavor and a nice crunch. You can top the piadina with just about anything. In Italy, street vendors actually sell it as more of a pita for ease of eating it on the go. It was also traditionally made with lard. But, come on you should know me better than that by now!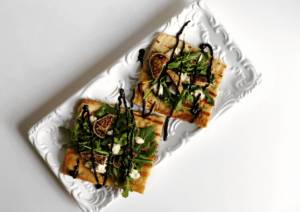 I originally tried it with olive oil which made the bread light and airy. Then I thought, could I get away with something less fattening? I initially tried water, but the dough came out a little dry. Then one night I was on the phone with my mom and she reminded me that I used to sub applesauce for oil in my cakes. So, I gave it another go and turns out the age old saying proved true. "Momma knows best."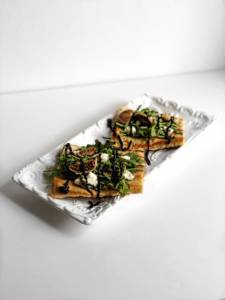 Yields: 4 piadinas
Prep Time: 15 minutes | Cook Time: 5 minutes | Total Time: 20 minutes
Ingredients:
1 1/3 cup all-purpose flour, + a few tbsp. to roll out the dough
½ tsp baking soda
1/3 cup applesauce
4 tbsp water (see 2 cents below)
1 tbsp olive oil or nonstick spray
2 cups arugula
6 figs, cut in ½
2 tbsp chopped pecans
4 tbsp goat cheese
1 Bartlett pear, peeled and sliced
1 tbsp balsamic glaze
Mix baking soda and flour together.
Add applesauce and mix until combined.
Add water, 1 tbsp at a time until dough comes together. Be sure to mix the dough before adding each tbsp (if too much water is added, the dough will become sticky making it impossible to roll out).
Place in fridge X ~10 minutes.
Lightly sprinkle flour on a smooth surface. Roll out dough to ~1/4-inch thickness. Cut into 4 equal rectangles.
Over medium heat, add olive oil (or nonstick spray) to a pan and add dough pieces. Cook ~3 minutes on each side or until lightly browned.
Divide arugula, figs, pecans, goat cheese, and pears among flatbread. Drizzle with balsamic glaze.
The Cook's 2 Cents:
Dough is very fickle. There are a lot of different factors such as the weather outside (humidity in the air) or the type of flour used that will end up affecting your end product. The amount of liquid needed will vary from day to day. Add enough water so that the dough comes together but not too much that it becomes a gooey mess.
I used my cast iron grill pan to cook these so I'd have nice grill marks on them. You could alternatively use an actual grill. That is, if you don't live in a NYC apartment which bans such items.
If peeling and slicing the pear seems like too much work, I have been known to use canned Bartletts.
Nutrition Facts:
Serving Size: 1 flatbread
Servings Per Recipe: 4
Calories: 163               Fat: 5g             Sodium: 217mg          Carbs: 30g                   Fiber: 4g          Sugars: 20g                 Protein: 3g