If you know me at all, you know I'm very sensitive to spicy foods. And if you don't know me, let me explain.
One year I was invited to a friend's wedding. Her and the groom are both Indian, so naturally, they served Indian food. As any good foodie does, I tried everything… Which led me to then down mine AND everyone else's drinks on the table (both alcoholic and non) because my mouth was on fire. I ate naan the remainder of the reception dinner.
On another occasion, I went to Korean BBQ with some friends and had déjà vu after trying some gochujang (aka a hot chili sauce that apparently causes smoke to come out of your ears). I ended up eating everyone's rice and drinking all of the water on the table yet again.
You might be asking the same question I ask myself every time I decide I'm ready for spice again: "Why do you keep doing this to yourself?!"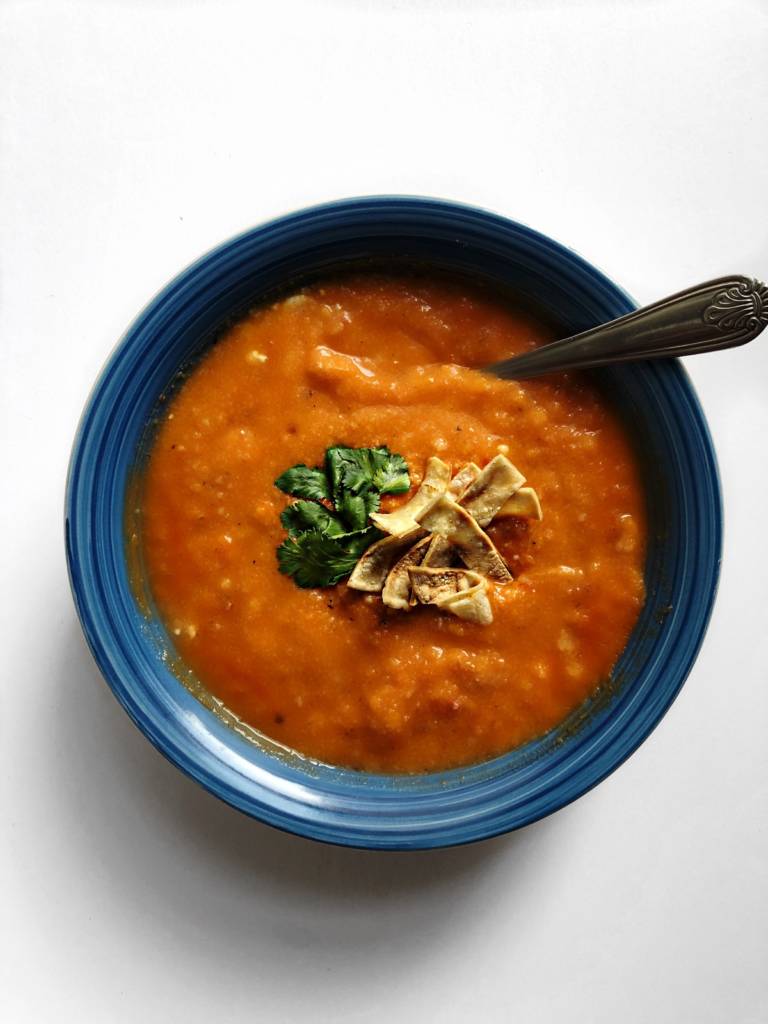 Well…
I guess I feel like people should be able to build up tolerance to certain foods—salt, sugar, etc. When you don't eat salt, anything with salt in it tastes like sea water. I was beginning to be skeptical of my theory until last week when I shared a bowl of tortilla soup with a friend of mine at a local Mexican restaurant. Apparently, it was crazy spicy—but I just thought it was mild. In fact, I liked it so much I decided to try and recreate it at home this week. Not typically attuned to cooking spicy food, I was at a loss as to what to put in it. That is, until I spotted my enchilada sauce from last week's plantain enchiladas!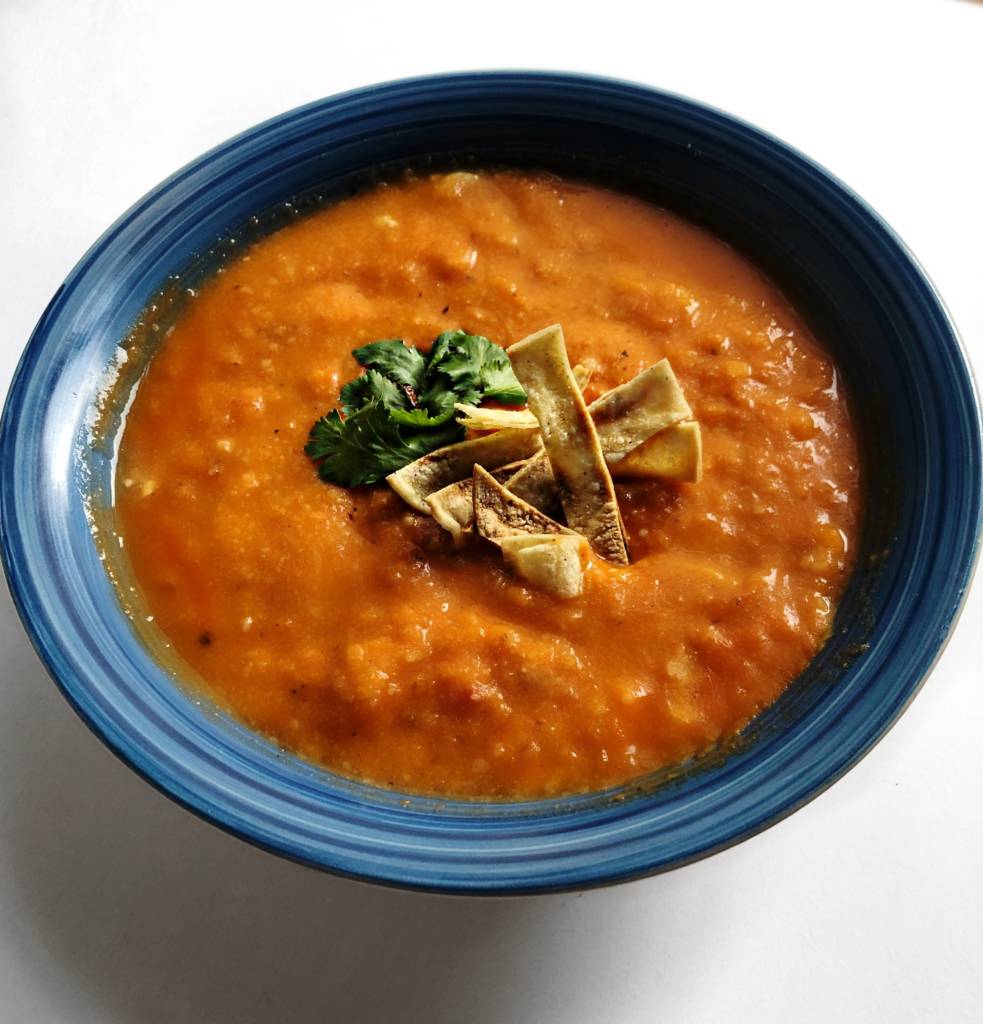 Yields: 5 cups
Prep Time: 5 minutes | Cook Time: 45 minutes | Total Time: 50 minutes
Ingredients: 
7 corn tortillas, reserve 4 uncooked
½ chicken breast (optional)
1 tbsp olive oil
½ onion, diced
2 garlic cloves, minced
1 jalapeno, seeds removed (optional)
1 tsp cumin
½ tsp paprika
2 cups vegetable stock
1, 14.5 oz can diced tomatoes, undrained
4 oz cheese (I used fat free cream cheese to make it creamier, but Monterey jack works well too)
To garnish:
½ avocado, cubed
¼ cup fresh cilantro
Preheat oven to 425°. Cut 3 tortillas into ¼ in X 2 inch strips. Spray with nonstick spray. Bake at 425°X 8 minutes, or until browned, flipping halfway through.
Decrease oven temp to 350°. Bake chicken X 20 minutes or until inside is 160°. 
Heat olive oil and garlic in a medium sized pot until fragrant. Add onion and jalapeno and cook ~3 minutes.
Add enchilada sauce, stock, tomatoes and their juices, cumin, paprika, and remainder of tortillas.
Bring to a boil. Reduce to simmer and cook X ~15 minutes. Add cheese and stir to melt. 
Transfer to a blender or use an immersion blender to blend until smooth.
Add chicken if desired. Top with tortilla strips, avocado, and cilantro.
The Cook's 2 Cents: 
I know most, if not all of my recipes are meatless. The chicken I added for a party I catered recently and it was a hit. I included it in today's recipe because I DO realize that some people can in fact appreciate meat. But it's totally optional.
Depending on yoursensitivity to spiciness—you can leave/add the jalapeno as desired. The enchilada sauce itself has a little bit of a kick to it, so tread lightly. Additionally, the seeds and ribs are what holds the spice of hot peppers. If you like things spicier, you can keep them in. But if you read my blog, you know why I left them out!
If you decide to use the jalapeno, make sure to either wear gloves when dicing, or wash your hands immediately after. If you don't you're liable to have burning eyes/face when you inevitably touch your face without thinking about it.
Nutrition Facts:
Serving Size: 1 ½ cups
Servings Per Recipe: 3
Calories: 343 Fat: 14g Sodium: 717mg Carbs: 41g Fiber: 5g Sugar: 9g Protein: 18g